We Also Work With
"You always have too much capacity – or too many sales" it is very hard to strike the balance when manufacturing innovative world leading products. New product development, specialist runs, customised products and the general lumpiness of today's business world means it is almost impossible to do everything yourself. Oasis can help, really help, with their Lean TOC factory. Professional and productive, the Oasis components-to-order service has helped dozens of fast moving companies get their business humming.
BLOKART INTERNATIONAL LTD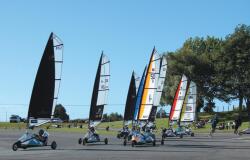 This internationally acclaimed land-sailing company came to Oasis needing precision stainless components to be engineered for their award-winning product. In a matter of days prototypes were supplied and full production started within 3-4 weeks.
Paul Beckett, Blokart Director, describes the journey, "Oasis has the most up-to-date, high speed machinery around and is extremely effi cient at turning out prototypes through to full product runs. I like the fact that Oasis provides a very personalized service, and I can always speak to the boss. There's a good atmosphere in the place and the staff fall over themselves to be helpful".