We Also Work With
"You always have too much capacity – or too many sales" it is very hard to strike the balance when manufacturing innovative world leading products. New product development, specialist runs, customised products and the general lumpiness of today's business world means it is almost impossible to do everything yourself. Oasis can help, really help, with their Lean TOC factory. Professional and productive, the Oasis components-to-order service has helped dozens of fast moving companies get their business humming.
W. A. FISHER LTD.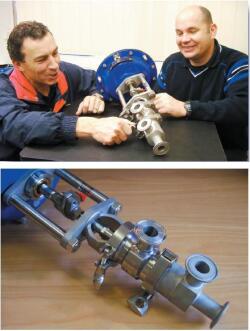 Process control and automation equipment company, W. A. Fisher, had a valve component they wanted to manufacture and develop further. Their in-house design engineer had some ideas and drawings on how improvements could be made but needed to work with a skilled engineering company to see these ideas to reality.
W. A. Fisher Manager, David Pipes, reflects on the 10 year business relationship they have enjoyed with the Oasis team: "We started working with Oasis 10 years ago when we first started looking for someone to manufacture our valve. We gave them some design ideas that they then adapted to suit the manufacturing processes. Oasis have assisted us in making changes to our valve to suit new actuation methods and improve the design to make it more effective in production.
We're always happy with their sevice, and their delivery is reliable and dependable".